History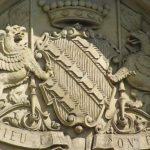 Count Johann Nepomuk Buquoy (1741–1803) worked on the idea of ​​building a new castle in Nové Hrady in South Bohemia since the 1760s, when the old castle and Baroque residence on the square did not meet the contemporary demands for comfort and representation. The financial balance of the future construction was drafted in 1768, but the first unrealized project of the New chateau was created in 1794.
The intensity and scope of construction were naturally related to changes in the property structure, the function of the individual residences and the growing number of the Count's family. In 1801, the long-delayed construction of the chateau in Nové Hrady began. Before then, Countess Terezie Buquoy-Paarin Nové Hrady was satisfied with her fashionable seasonal castle Neugebäude (Blue House) in the Valley.
It was not until 1801 that the building site of today's castle building was designated, which was supposedly built by the French architect Franz von Werschafeld, but nothing else is known about it. The construction began in 1802, after the Count's death during the following year (1803), the widow, Countess Terezie née Paar, and later nephew Georg Franz August Buquoy (1781–1851) continued the construction. The rough construction was completed in 1806, and interior furnishing was extended through 1810.
The reconstruction, which took place here in the 40s, was initiated by the son of George Franz August, Georg Johann Heinrich Buquoy, who, during this decade, took over most of the duties associated with the administration of the estate. The chateau theater was adorned with new decorations during the construction work carried out since 1847 in Nové Hrady and its surroundings. In 1848 a chateau chapel was built. The external stone staircase and the winter garden were commissioned by the Count in 1852, and a decade later a staircase was added to the garden side of the castle.
This rural mansion was dominated by an unpretentious style with smooth painting, wallpaper and a predominance of seating furniture. The interiors were supposed to be more comfortable than rich. The Earl preferred a light, bright color – a yellow tone to the exterior plaster, white painted windows, white wallpaper, and blue covers. The popularity of Rococo furniture in Nové Hrady, documented by the watercolors of Friedrich Ströbel and Josef Schütz, was probably also related to Buquoy's interest in French culture.
The ground floor of the chateau consisted of kitchen rooms and servant flats, on the first floor there were common rooms and count rooms, and the second floor was for guests. The castle was skillfully incorporated into the natural surroundings at the time of its creation. From the south side, it was followed by the so-called Jánská meadow, which was later divided by road and bus station. The northern facade faces a large castle park with a pond.