Rooms
Total capacity is 17 rooms / 44 beds (including above standard apartment "Hraběnka" – (Countess)).
In the 1st floor of the main building, there are 13 rooms (9 bedrooms with upstairs bedrooms, 4 single-story rooms). The building also has a lift and a shared modern kitchenette with fridge, dishwasher, kettle, microwave, stove and washing machine.
Two-floor Rooms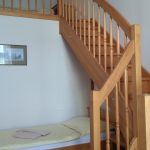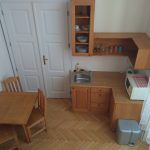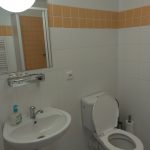 The beds in these rooms are generally located on an elevated floor, accessible by a wooden staircase. Some rooms have beds located on the ground floor, and it is even possible to lay out an extra bed. These are comfortable accommodations, especially for corporate events; each inhabitant will have their own space and plenty of privacy.
Ground Floor Rooms
On the ground floor there are 4 smaller, but no less cozy, single-floor rooms with the same equipment (as the rooms on the first floor), and a modern bathroom with shower and toilet.
Apartment Hraběnka (Countess)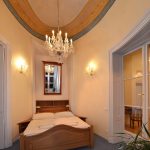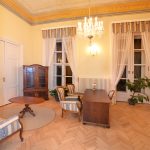 Spacious, bright apartment with ornate ceiling, replica of period chandelier and furniture with blue and white upholstery. Behind the glass doors is a double bedroom and a winter garden / glazed balcony with two armchairs and a table that creates a pleasant athmosphere. The apartment has a separate door with a second bedroom, with two beds on the first floor, kitchenette with refrigerator and large bathroom with shower and toilet.